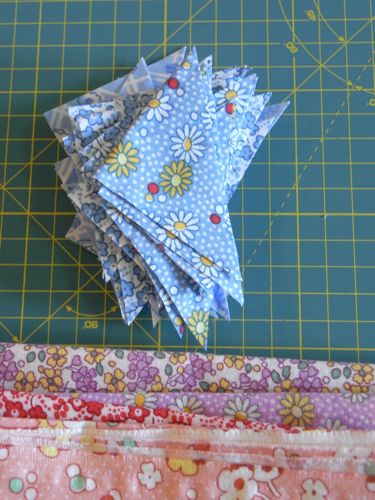 I'm finding the cutting part of starting a quilt rather meditative, with a rotary cutter.  I know that doesn't sound meditative … and yes, I am keeping my fingers well out of the way!
It's my first time using a rotary cutter, and I'm enjoying the sameness of about 100 tiny triangles, all squared off with a ruler, cut nice and straight down the sides.  (I made more after I took the photo – and even managed to finish before the children came home).
I'm using this pattern for a kitchen table cushion.  And 2 random packs of fat quarters from Lincraft.  I actually don't love the fabric, particularly.  I think I've seen it too many times before.  And the pattern is fine, too, but really I chose it as suitable for a beginner.
I think the combination of focus on learning to use a new tool, and not caring much about the outcome: that's what I'm finding so calming. Hope it continues.