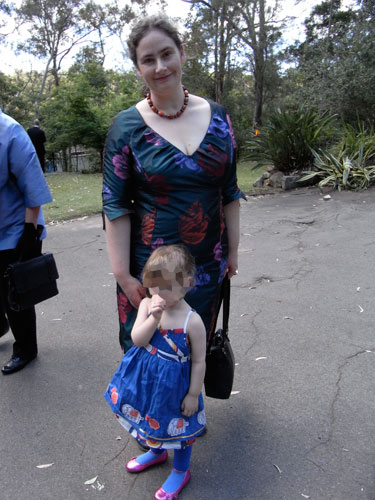 Yes, that's a photo of me in a dress I sewed for myself (burda 07-2009-132). I wore it at my sister-in-law's wedding. And only 2 weeks before, I'd sewn a dress and worn it for her hen's night.
Sudden productivity. It's been a long time coming.
The backstory
You see, in 2007, I decided I wanted to sew my own clothes. Started collecting burda magazine. Didn't sew anything, spent the year reading about sewing. That's OK: I'm a read-everything-before-I-start type person.
In 2008, I made my first skirt and a couple of tops. A little too big, interfacing a little too stiff. And, admittedly, rather too complex patterns for a first-timer. An eight-piece pattern, top-stitching, self-drafted cowls. Asking a bit much of myself.
Then we moved to Tokyo. I thought I'd sew there, but really, I was too busy going out, exploring, trying to interact (and cope)…
And 2009? We came home. And? Nothing. I'm not generally lazy, so what's stopping me sewing?
Shopping vs. sewing
OK, suppose you go into a shop, looking for clothes. You're thinking whether the clothes will fit, look good on you, and be appropriate for the occasion. I mean, you usually know you want something for work, or something for a party, something for the beach…
Fit? Well, you know whether something fits or not once you get into the changeroom. And flatter? By now, I know what I think looks good on me. I mean, if it makes me feel ugh, there's no point, is there?
So in a shop, you spend most of your time thinking about the occasion. Who else will be there? What will they wear? If I wear this, what will they think of me? Do I want them to think of me like that? It's complicated. It takes a lot of thought, but in the end you can decide. Sure, budget's always a factor. The rest of your wardrobe might be a factor too, if your wardrobe's bigger than mine!
Why is sewing so hard?
I don't mean sewing is difficult: it takes practice, but I'll improve. What I mean is, mentally.
There's no fitting room. Sure, I can measure, "tissue-fit" (hold the pattern up to me) but, well, I've still made plenty of mistakes. I'm never sure what I sew will fit. And flatter me? Even reliable looks for me: V-neck, fitted top with an A-line skirt… well, it turned out horrible. I've never shown you. Sure, I can analyse why: I'd simply never tried on a dress like that before. So two issues that are easy to eliminate when you're shopping, they're unknowns, right until I've completely finished my sewing.
Then the occasion. Yes, that's still a worry. Particularly weddings, you know?
Plus, there's the guilt. It's nice fabric, will I ruin it? Is this the best use for it? Should I save it for something else?
And the decision paralysis. I mean, theoretically, I could make anything I want. I've collected burdas since 2007, that's roughly, umm, 1440 patterns? In various sizes: no, don't even get me started on sizes and the possibilities of grading! Or I could try to draft my own…
And that's why I wasn't sewing. Too much thinking. Too many worries.
How I solved my problem
I bought the fabric specially. Silk, usually an expensive fabric, but cheap if you sew your own.
I gave myself 3 days to worry, to re-decide a thousand times.
And then I said to myself: I'll stop. The deadline for worrying has passed. It's time to focus on making the tracing accurate, the cutting neat and the sewing right.
And so that's what I did. Focused. And finished.
(Even though I'd picked the wrong size and had to design extra side panels, hah!)