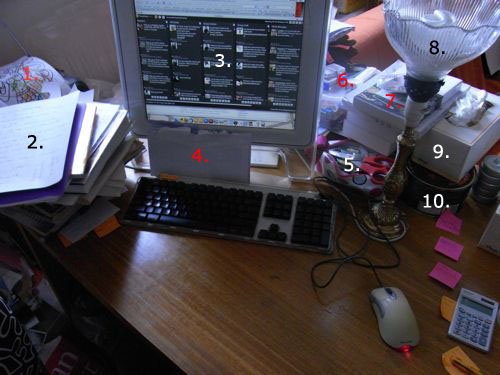 (Partial) inventory:
1. Kid's art. Should find the blu-tack to stick it on the wall.
2. Ideas.
3. Computer. Yes, with Twitter.
4. Bills. Fun.
5. Pencil case.
6. Sewing and tracing tools. For a burda skirt I meant to make. before Christmas.
7. Chinese books. I was going to study intensively over the holidays. But, like all students, I actually did other stuff. Also, balloons for a kid's birthday.
8.I love this light. It used to be in a train carriage. Bought in a weird little shop in Enmore, ages ago, the shop doesn't exist anymore …
9. Used tissues stuffed into an old tissue box. Not sure if this counts as reuse, recycle or unhygienic?
10. Christmas pudding, unopened. My favourite Christmas treat, so I'm still looking forward to it.
11. Tissues.
12. Presents from the kids, their drawings.
13. Diagrams of indoor clothes drying racks, for husband.
14. Sewing machine. At least it's where I can see it.
15. Crap, various.
16. Crochet project.
17. Fashion illustration project (haven't decided whether I'll show you or not).
18. Tea towel to keep my desk clean, when I eat here.
19. Hair clips, Christmas gift from Mum.
20. Quilt project. Fabric washed, but that's as far as I've got.