Because what's a blog without a rant or two?
Hopefully, this rant about Tokyo fabric and yarn stores will leave you feeling virtuously frugal  or at least  proud to buy local …  in these post-Credit Crunch times.  And yes, I'm planning a few rant-free  posts on the topic,  too!
Reading my favourite craft bloggers,there's nothing but praise for Japanese craft books, Japanese fabrics, dinky little Japanese gadgets … and always glowing reports of Tokyo craft stores.  So my expectations where high, too high.  But hey, anywhere's got to be better than Craftlight, right Aussies? (Perhaps think Joann's if you're American … but I've never seen a Joann's, maybe they're excellent in comparison to what's usually available in Australia …)
Anyway, on to the story…
I started at Yuzawaya, that huge craft store in Kichijōji.  Phew, found it.  Pot plants, both fake and real, lined up outside the door.  Hmm, gardening's definitely creative …  not totally sure about the fake plastic stuff, looks a bit like a $2 shop back home, nevermind…
Through the door, and the first thing I see is a giant Disney-esque Princess and fairytale character clockwork display.  Now, one reasons I'm into craft is I don't want my 2 growing up with a Princess Complex…
Next thing I see, a totally ghastly (for the daughter of an artist) European-style oil painting in a giant gilt frame for an obscene amount of money…
And then there were the goods themselves, the stuff for sale … it would've looked perfect at a cut-price chemist's liquidation sale, you know, the "Bargains galore, everything must go!"-style chemists: chipped white melamine tables dumped with cheap lipsticks, nail polishes, mascaras … totally NOT what I was expecting.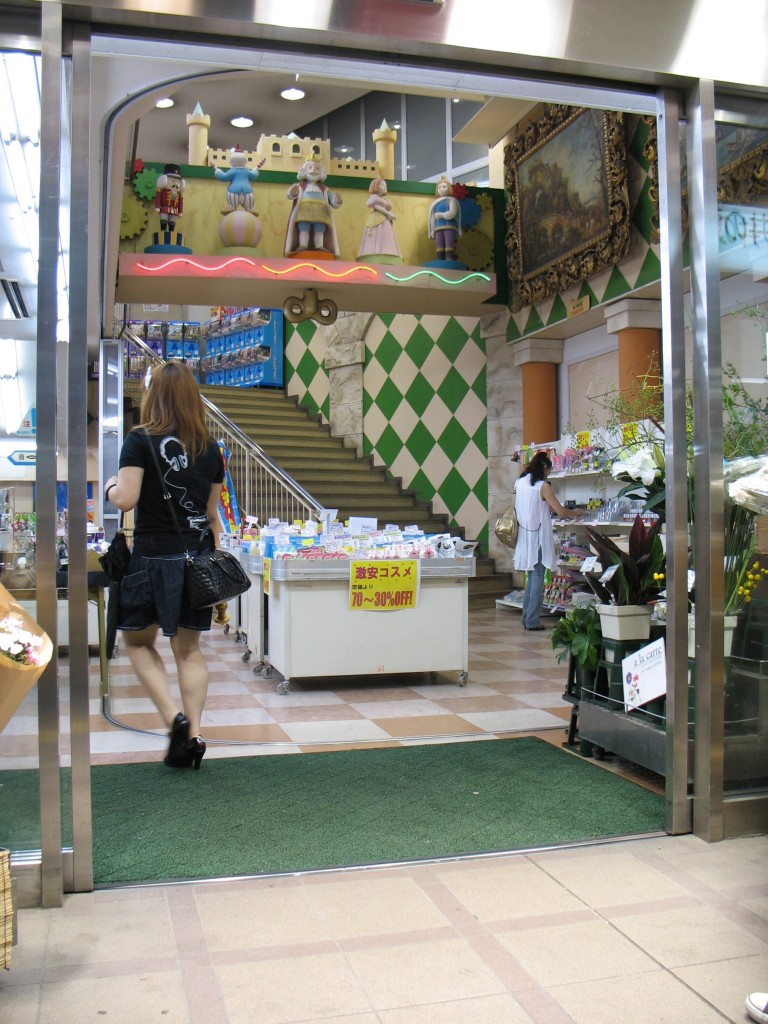 Around the corner, oh great, "character goods" … pencils, stuffed toys, hankies and so on, designed as tie-ins to a variety of American and Japanese animations.  And to complete my catalogue of the ground floor: dog toys.  Cat toys too, presumably.
By this stage, I wasn't sure I was in the right store, and I went up the escalator with some trepidation.  More of the same: it was April, back to school time, so there were rows upon rows of "character" lunch boxes.  And "character" backpacks.  And "character" jigsaws … and a few globes which yes, I agree, did look educational.
Next floor, men's underwear, WTF?!  I mean boxers, briefs, socks … perhaps there was some women's underwear too.  (I went back later, on purpose, with Husb, but the men's underwear had gone… must have been a back-to-work special, only women's underwear is there normally)
Fourth floor, finally!  Dressmaking fabrics, nice ones, too.  Liberties, which I haven't seen since I was a kid, good quality wool plaids, organics, linens … ah, this is what I was after!  Although, to be fair, at least a quarter of the fabrics are those fluro sequined Lycras Craftlight specialises in … And half the total floor space is devoted to knitting and weaving supplies (not forgetting the reasonable-sized selection of fake furs, eyelash yarns … you get the picture).  (Nice) buttons, (sensible) sewing machines, notions and wigs (!) round out that floor.
Fifth floor, quilting fabrics, children's prints, some traditional-looking Japanese indigo prints, and … pots and pans.  Rather nice ones, I agree, but again, not what I was expecting.  The upper floors are all a blur … there is some tapestry and embroidery stuff, bear making, leatherwork, patchwork, temari and so on.  Art supplies and calligraphy, too, but by that stage you can hear the top floor … arcade games, I've always wondered if they're designed to soften kids up for pachinko later in life… (cynical, who? me?)
Now, I'm not dissing Yuzawaya, I respect that they honestly DO have dressmaking fabrics, not re-purposed quilting fabrics.  And Yuzawaya has enough yarn for anyone to find something they'd like … and more high-quality notions that I've ever seen. Ever.  But I'd just like a little more perspective, when discussing Japanese craft shops, I'm kinda trying to balance up all the praise I read before I left Sydney, and my own dreamy imaginings …
And it's not like Yuzawaya is exceptional … all its competitors are the same.  Okadaya in Shinjuku is probably my favourite store, I even took my Mum there when she came to Tokyo.  I hadn't told her the name, but as we approached I said "Look, it's the one next to the shoe shop"  "I know" she said.  "How do you know?" "Well, it looks like a craft shop" she said, pointing to the tacky plastic bangles, hair ties and nail art on the ground floor.  She's right … she's been to Craftlight in Sydney, too.
Kinkado in Ikebukuro is reached through a 100 yen shop and cut-price cosmetics store.  And Tomato, in Nippori … well, if you hate the disorganisation of Craftlight, the rolls of fabric draped onto the floor, the slimey polyesters in clashing prints … I'm not sure you'll fall in love with Tomato.  Although you CAN find amazing dressmaking bargains, and the patchwork fabrics on the top floor are neat and lovely…
Recently, Husband explained it all: these stores are for housewives, hence the lingerie, toys and saucepans along with the sewing machines and fabrics.  He's right, I'm sure.  But the militant feminist in me feels somewhat uncomfortable …