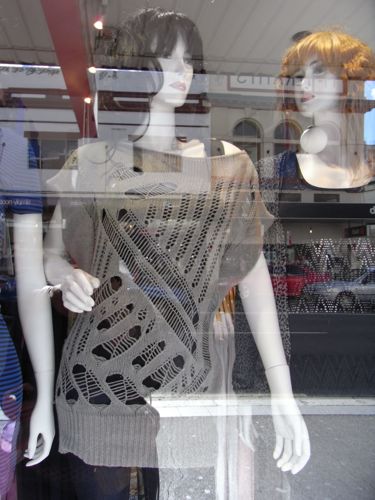 I went to the city (Sydney CBD) today, meaning to find some knitted inspiration. It's Autumn here, and getting colder. Surely there should be something in the shops to inspire a handknitter who also likes fashion? Meh, not so much.
This season's colours are clearly grey and beige (and black, of course, I can't imagine black ever going out of fashion here). I mean: purples, coral red, a little navy and misc. jewel tones are used in other clothing, just not much for knits. Knits get the boring colours. Great.
By 'knit', I mean ones I could be inspired by. Sure, sure, I know fine jerseys, T-shirt fabrics and so on are knits, but they couldn't reasonably be made by a hand. So I'm really talking knits made of laceweight or thicker yarn. Yes, I know that's an odd classification, but I'm sticking to it, leastways until I get a knitting machine …
Fair isle is out. Cables and textures, particularly chunky knit, are in. Garter, or at least reverse-stocking stitch, make an appearance (oh, and Country Road lined their knits for stability this year, much less sad and saggy!)
Shapes, as bland as the colours. Plenty of fine gauge turtle-necks and V-necks that say: "Don't look at me, I'm only for layering purposes!" Long loose cradigans, Starsky-style. Ponchos, kimono-sleeves, wraps galore. Curve-front boleroes, similar to Kate Gilbert's famous Sunrise Circle Jacket. Or like the cover of the current Vogue Knitting. I guess I wanted something more … innovative? … novel? Not in a recession.
But what about the photo, I hear you say. Interesting diagonal lacy panels. Texture (and, sure, beige). Well, I saw it a few weeks ago in Just Feathers boutique, King Street, Newtown. End of Summer stock, I assume. The label is SunnyGirl, it was the last one, I hadn't the heart to ask the shop assistant to unpin it, take it off the dummy just so I could exmaine the knitting … pity …