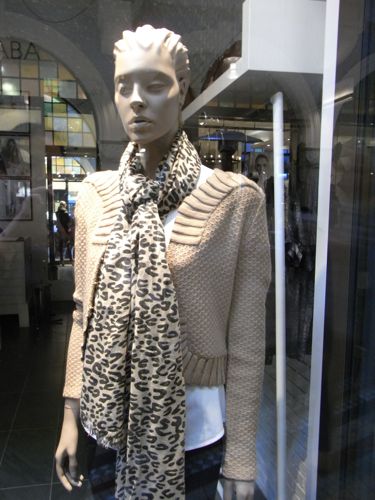 I love knitting, so I'm always keeping an eye on knitwear in the shops. I guess the shops I'm walking past each day would be classified as the Australian 'high street' (whatever that term really means) or perhaps contemporary designer? Must say the knitwear I'm seeing has improved, compared to around 5 years ago when I first started taking note. I'm not seeing so many knits stretching and sagging off the hangers, these days.
Clever knitwear always makes me smile. Here, I like the idea of ribbing used as contrast and decoration, not just as utilitarian edging. The ribbing's curved, even along the shoulders in a kind of boatneck style. I often appreciate fashion ideas that might be somewhat awkward to wear … but this isn't one of them. The ribbing gives a little more style to an otherwise simple, neat jacket.
The photo is from SABA, about a month ago. The next day they covered the mannequin with an even bigger scarf, so I couldn't see the knitwear detail anymore. I suppose the jacket's probably on sale now or even sold out (I can't see it in their online store).