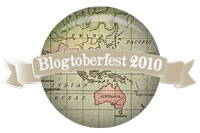 … and you laugh at me. Because if you look at my previous posting history, it seems unlikely.
BUT. When I look at my previous blogging history, I see something else. A distinct and predictable pattern: I blog during University holidays. You see, I stated this blog during "leave of absence" for my first child. In 2006. And then I went back to Uni to study, part-time, until my second child was one.
Since then I've studied full-time and minded the kids.  Which is, for me, quite a bit of work. I like Uni, I try to do my best.  So I decided early on something (well, some things) had to give: (1) a tidy house, fancy home-cooked meals and general domestic godessness, and (2) blogging, crafting, other extra-curricular activities.
So there you have it: why I don't blog much.
I can see plenty of reasons why Blogtoberfest mightn't work: exams, lots of major assignments due in October (that's what ended kid's clothes week). But I want to give it a go anyway.  I'm nearly graduated, I'm nearly out of this no-spare-time-even-nights-or-weekends tunnel…