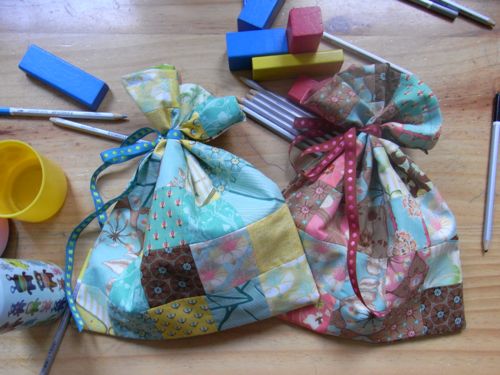 2010 is starting to feel serious: A is back at school, M's starting soon (it's a Montessori school) and I'll be back at Uni before I know it. So I'd better hurry up and show you the only Christmas present I actually handmade!
Yes, Germaine, Mum did actually ask for a handmade gift. I suspect she knows I have more fabric/time than money at the moment … And so I took the opportunity to try my first patchwork.
The fabrics are from a charm pack: Botany by Lauren and Jessi Jung for moda. You know, I haven't really used craft fabrics before. Admired them, yes. Stroked them on the bolt in the shops, uh, yes. But actually sewn with them? No, I've basically used dress fabrics: cheap or better quality.
So this project gave me a couple of surprises. First, I'd always thought that not using craft fabrics for dressmaking was kinda snobby: it isn't. Roll on all the designers (actually it's not their fault), roll on all the manufacturers offering craft fabric designs on dressmaking and other types of fabric. And second, I'd thought that combining the fabrics contained in a charm pack would be kinda brainless. I mean, they've been specifically designed to go together, haven't they? Well, they probably were designed to match. But I didn't happen to like that particular fresh Spring green with that particular turquoise. Might be just me. Or might be unrealistic expectations. Any rate, I decided one side of the patchwork bags would use mainly the fresh greens; the other mixed the turquoises.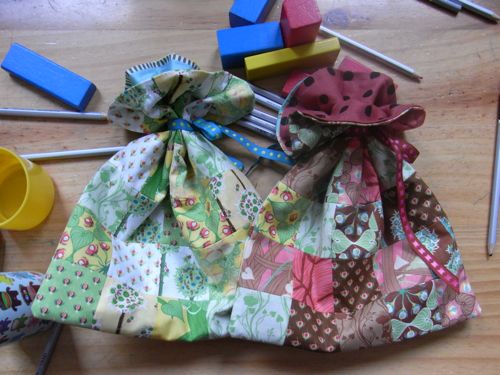 Look pretty and neat, don't they? But they're actually a bit wonky. I mean, I knew attaching the linings would be a problem: I'd sized them without factoring in any space needed for bulky seams, turn of cloth or any concepts like that. As a result, there's a tuck just where the ribbons are joined. And I rather like that tuck, makes the bags a little more interesting. Next time, I'll design in a tuck (on purpose).
My other issue was a bit more unexpected. I'd chosen what I thought was a really simple pattern for my first patchwork: just lots of squares. Arranged in a grid. No fancy hexagons, diamonds, nothing. Just a grid. About an hour into sewing (I'm slow: I sew and think, sew more, ponder..). Anyway, about an hour into sewing I realised a grid-based pattern requires you to line things up exactly. And I couldn't. I did try, with lots of pins. Hence my question: am I mad to worry if my patchwork is about 2mm out in places? Lots of places?
Deep down, I know the answer. No, I should be more accurate. It'd look better. So, dear experienced patchworkers, some more questions: what should I have done? I'll admit to treating a my fabric like paper: folding in half, scoring and cutting (with scissors). Was that my downfall? I'll also admit my sewing may have veered from straight by about 1mm on occasion: did those slight errors multiply? Or is there some particular technique I should have known about and used?
And yes, I did check my patchwork books, limited though my collection is. And I realised all my Japanese books are about hand patchworking. Not by machine. Even though one of them is specifically about different designs made from squares (and triangles). I also have Last-Minute Patchwork + Quilted Gifts by Joelle Hoverson which doesn't really have a lot of grid-based designs. Perhaps so you can make them last minute, eh? And they still look good as gifts? Yes, Germaine, there's often quite a bit of truth to what you say, however offended we get. But nine patches are a traditional grid pattern, so there must be a way to align them?