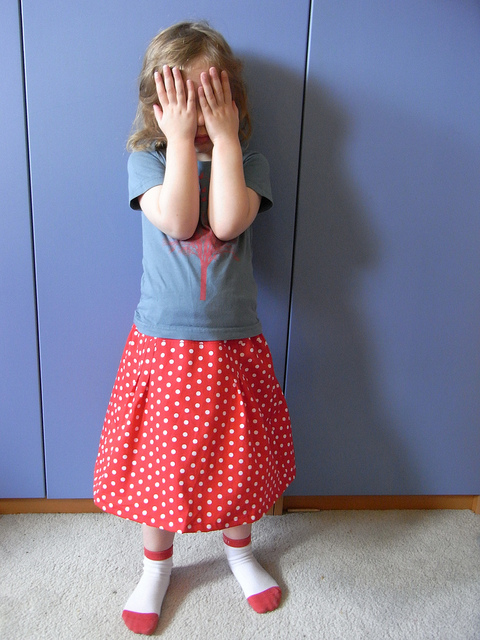 … was far more successful than Autumn's.  I finished something!  Yay!
Only one thing 'tho, I was hoping for at least two finished things – I have 2 children.  And actually, it took all "day."  Although a "day", for me, is a frequently interrupted period of time, so perhaps 6 hours straight? Or less, allowing procrastination time?  Perhaps I did my week's worth after all, just on one day?
The skirt is for the littlest.  She doesn't seem as into clothes, or as critical of them.  I'm glad she still accepts jeans without complaint.  Particularly on cold, windy, rainy days.  And I'm glad she isn't too influenced by preschool yet, she has her own mind. All the other little girls seem to wear skirts or dresses, everyday.
She has occasionally commented she doesn't have many skirts.  Trouble is, most of her clothes were her sister's.  And her sister keeps almost all the skirts, they're the favourites, even when they're getting short.  So I'm glad the first handsewn item was for the littlest – she has something first, for once.
The pattern is "b.f" from 女のこのお'洋服 (ISBN 978-4-529-04437-0).  I chose it for the little tucks at the sides (front and back).  I'm not sure the polka dots show them off that well.  The fabric was her choice, she often chooses red clothes, although she says her favourite colour is still blue.  Even after starting preschool.
It was easy enough to sew.  Yes, I can read the instructions, so I did!  I took my time sewing, to make sure it looks neat.  Even if she isn't fussed how her clothes look now, she might change her mind later.  I made size 110cm.  But, realistically, that's her big sister's size, she's closer to 100cm.  I just wanted to make sure littlest could enjoy the skirt for a good long time.
By the way, here is nearly the first time she appeared on this blog – hasn't she grown!